WPA Plaque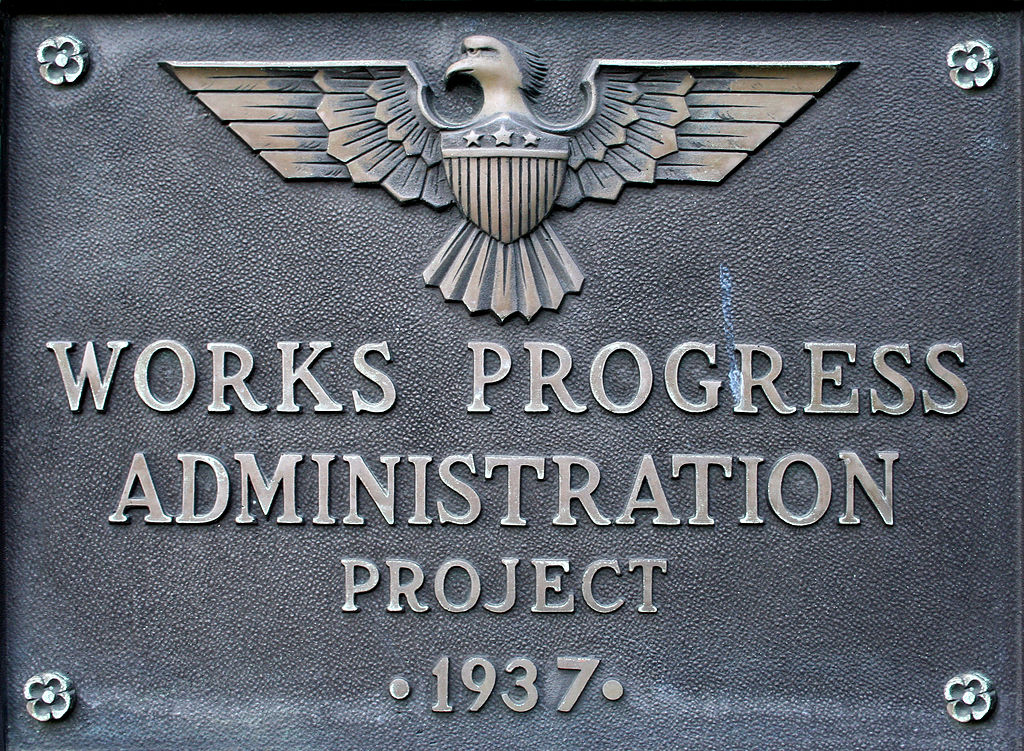 During the Great Depression, New Deal agencies such as the Works Progress Administration (WPA) were busy all over the United States constructing bridges, tunnels, parks, playgrounds, schools, athletic fields, dams, public housing, airports, stadiums, libraries, post offices, swimming pools, recreation centers, beaches, and so on, and upon completion of each such project, a plaque like the one shown above was mounted to let everybody know that it was designed, built, and paid for by a federal government whose main goals were to put people back to work creating public works to improve and enrich the lives of ordinary people.
The New Deal plaques were mounted in every city, town, state, and territory of the United States; everywhere except New York City. That is because most New Deal projects here fell under the authority of NYC Parks Commissioner Robert Moses who banned them because he was an opponent of the New Deal and of President Roosevelt. As a result, today few New Yorkers are aware of the huge contributions made by the WPA and other New Deal agencies to the landscape of our city: such landmarks as LaGuardia Airport, Riverside Park, Orchard Beach, the Triborough and Bronx-Whitestone Bridges, the Henry Hudson Parkway and Henry Hudson Bridge, the Lincoln and Brooklyn-Battery and Queens-Midtown tunnels, the FDR Drive, the Belt Parkway, eleven monumental public swimming pools, several public golf courses, the Central Park Zoo, hundreds of parks and playgrounds, and on and on.
People today deserve to know that there was a time when the US government cared about ordinary people more than about billionaires, and that not all value must be created by the "free market" (as Robert Moses wanted us to believe). The public investments of the New Deal put millions of people to work creating resources that not only benefitted the general public but which themselves provided good jobs for millions more people to this day. The New Deal also enacted Social Security, established the rights of workers to a living wage and to organize into unions, and much more to promote the security and well-being of all the people. If we know that all of this was possible once, we will know it is also possible today, and we can try to elect governments that will work for all of us and not just for the rich.
[See other WPA plaque designs]
[Read more about the New Deal in New York City]
[See photos New Deal projects in New York City]
The Works Progress Administration was renamed to Works Projects Administration in 1939, so plaques created after 1938 have the new name.
---
Frank da Cruz |
fdc@columbia.edu
|
Last update:
Tue Aug 22 10:30:26 2017