NYC New Deal Map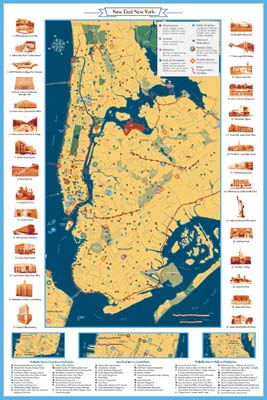 Look! It's all around you!
The New Deal in New York City 1933-1943
Frank da Cruz
Bronx NY
October 2013
Most recent update:
16 February 2021
The
New Deal
was a federal program during the Franklin D. Roosevelt administration that (among other things) put millions of unemployed people to work creating public works to improve the lives of ordinary people.
Read more in the Text resources.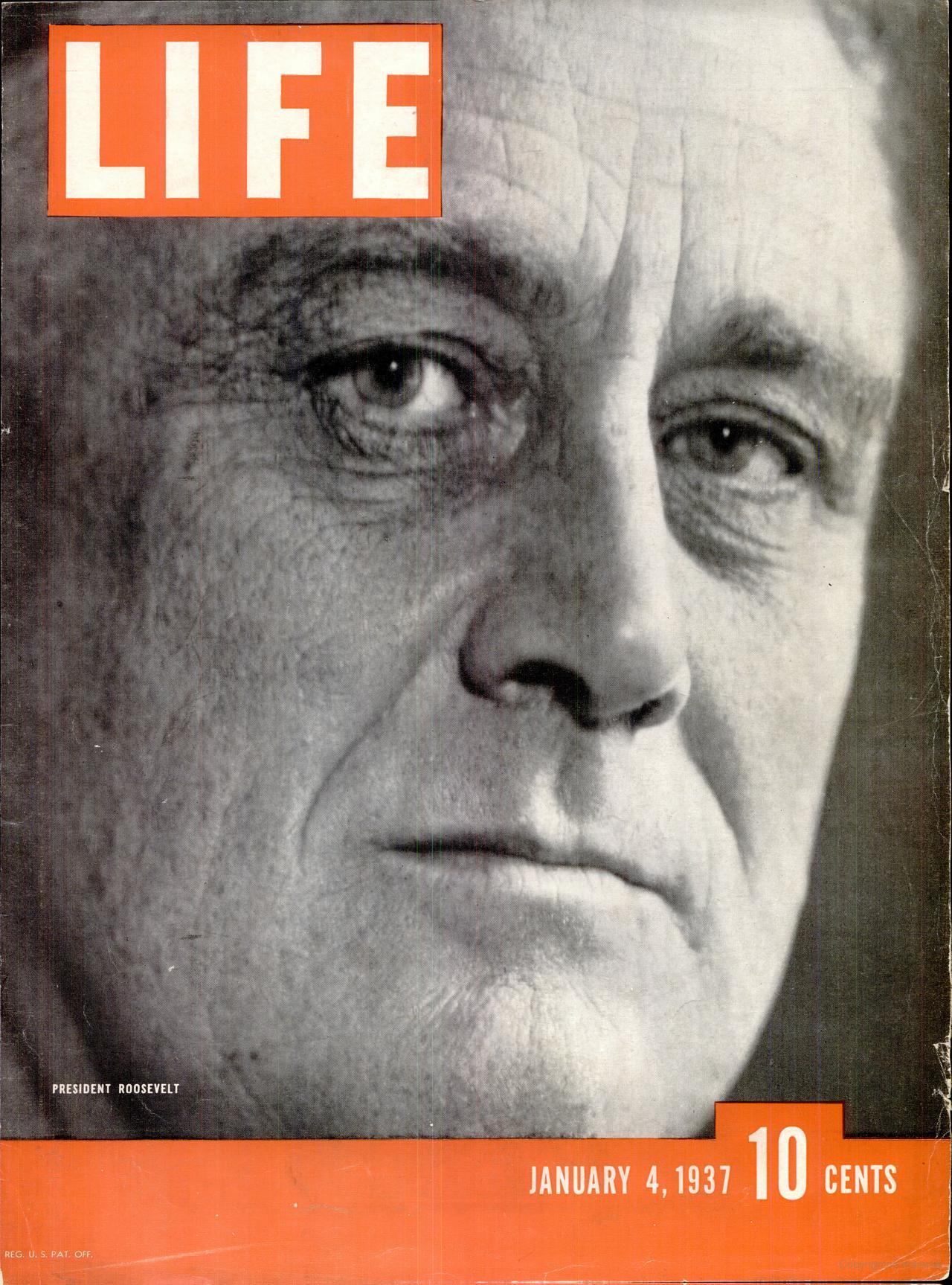 FDR 1937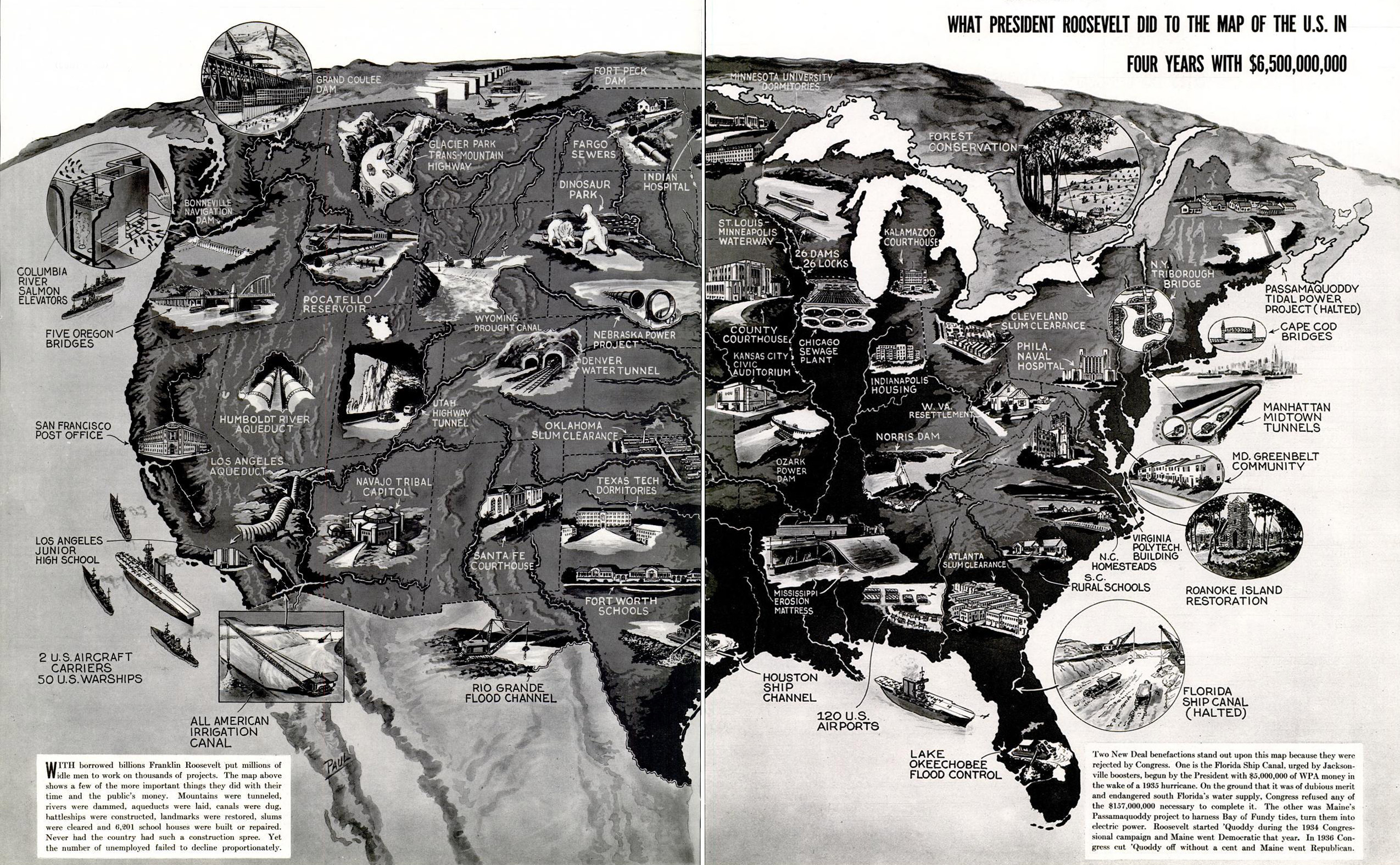 LIFE Magazine New Deal map
Massive unemployment? Widespread poverty? Economy in free fall? Miles-long food lines? Crumbling infrastructure? Dysfunctional health-care system? Crashing state and local budgets? No hope in sight?
We've been here before and we fixed it. Then they broke it. But WE CAN FIX IT AGAIN. And this time we have to.
Recent:
More news...
New Virginia New Deal photos: Harrisonburg, Virginia Beach - July 2020.
Dear Joe Biden - Letter to VP Biden from the children and grandchildren of FDR and his New Dealers - June 2020.
Richard Walker: From the New Deal to the Green New Deal - July 2020.
The Jobs We Need, New York Times editorial, 24 June 2020: The Times advocates a return to the New Deal. ("Thanks NYT, for pointing out what the rest of us have been saying and feeling for decades.")
A Solution within Reach: The Civilian Coastal Conservation Corps,
Paul J. Baicich, World Ocean Forum, 16 June 2020.
From the New Deal to the Green New Deal, Richard Walker, Living New Deal, 1 June 2020.
Roosevelt's New Deal offered hope in desperate times. We can do the same now, Eric Rauchway, The Guardian, 20 May 2020.
Franklin Roosevelt Put Young People Back to Work – Let's Do It Again, New York Times, 18 May 2020.
Stimulus isn't enough. Our cities need a post-pandemic New Deal, Patrick Sisson, Curbed, 16 April 2020.
Reality Has Endorsed Bernie Sanders, The New Yorker, 30 March 2020.
NYC Mayor de Blasio makes a strong case for a new New Deal to fight the epidemic and its economic effects (video, 1h:15m, the link goes straight to the New Deal part) - 15 March 2020.
The Gray New Deal - January 2020.
Racial/gender/age justice in the New Deal (Living New Deal) - December 2019.
Living New Deal NYC chapter opens, November 17, 2019.
Watch Cardi B interview Bernie Sanders, 16 August 2019.
Articles about the Green New Deal (Living New Deal) - updated frequently.
Raising the New Deal Flag in New York City, May 22, 2019.
$60 million Orchard Beach renovation project announced, 9 January 2019.
Translations of this page available, 16 January 2019.
Was the New Deal Racist?, May 22, 2019.
Reviving the New Deal's Lost History in New York City, Peggy Crane.
The Green New Deal
The House Resolution, Alexandria Ocasio-Cortez, Ed Markey, 5 February 2019.
Washington Post Op-Ed, Richard Walker, 26 February 2019 [PDF].
"Where Our New World Begins", Kevin Baker, Harper's, May 2019.
"What the New Deal Can Teach Us About a Green New Deal"
Jacobin Magazine, 26 March 2019, an interview with Richard Walker, Director, Living New Deal
"The New Deal Wasn't What You Think", Louis Hyman, The Atlantic, March 6, 2019.
A historic decades-old mural was painted over at a New York high school during a repair project, CNN, 2018/06/18.
News4 NY segment, Jummy Olabanji, NBC, 2018/06/16 (fuzzy video)
[See Clinton High School mural gallery]
New York City New Deal site search:
When I moved to the Bronx in 2012
I quickly realized I was
surrounded by New Deal projects
on every side, and I started to photograph them and put the photos on a single web page (
New Deal Projects in the Bronx
). Before long the scope of the project expanded to the extent that it needed a front page like this one to organize all the pieces. I believe
it is important that in these times of unprecedented economic disparity and destruction of the working and middle classes that everybody in the USA should know the history of the New Deal because ANOTHER New Deal is exactly what we need today
.
Click on the following images
and see what what was accomplished in just one city (and a few other places) in the 1930s and early 40s when the government put ordinary people first... (
Read more
)
Photo galleries
Aymar Embury II
- Prolific NYC New Deal architect (20 November 2019) - 63 sites
Highbridge Play Center and Pool plus the two Highbridge Parks
(October 2019)
New Deal projects in New Mexico (June 2019) - 27 sites
New Deal projects in New Mexico
(November 2018 - side trip to a state that honors its New Deal heritage rather than suppressing it) - 25 sites
Jackie Robinson Park and Play Center, Harlem
(August 2018)
Brooklyn Navy Yard
(June-July 2018)
Bryant Park - Manhattan
(May 2018)
Hillside Homes - Bronx
(April 2018)
New Deal sites around Washington Square
(April 2018) - 9 sites
New Deal Schools in the Bronx
(and one in Queens), March 2018 - 37 sites
Oval Park Bronx 80th Anniversary
(September 2017)
New Deal Projects in the Bronx
(plus a few in Queens) - 58 sites
Van Cortlandt Park New Deal Tour
(Bronx) - 7 sites
Kingsbridge Heights New Deal Tour
(Bronx) - 7 sites
Central Park New Deal Tour
(Manhattan) - 14 sites
Riverside Park New Deal Tour
(Manhattan) - 12 sites
Randall's Island New Deal Projects
(Borough of Manhattan) - The Island itself and ex-Municipal Stadium
Working New Neal
(New York City) - People who have jobs today thanks to the New Deal
Notable New Deal Projects in New York City
- 40 of the best-known NYC features that nobody knows are New Deal creations
The New Deal in Virginia
(2017, 2020) - New Deal projects in Hampton, Newport News, Viriginia Beach, and Harrisonburg.
America Fights the Depression
(photos from 1934 book)
Robert Moses and the Modern City
(photos from 2007 book)
Popular Music of the Depression and New Deal
(July 2017)
Translations of this page courtesy of...
Acknowledgments:
Thanks to Peter da Cruz for his collaboration on the Van Cortlandt Park gallery; to Aleida Morel for making the June 26, 2016, photos possible: Bronx-Whitestone Bridge, Ferry Point Park, Francis Lewis Park, Astoria Park and Pool, and the Queens end of the Triborough Bridge; to Gray Brechin and Richard Walker of the
Living New Deal
for making the May 2017 Pelham Bay / Split Rock photos possible; and most recently to Pam Ives for her collaboration on the November 2018 and June 2019 New Mexico New Deal galleries as well as the September 2019 Highbridge safari.
Notices:
As of 10 October 2020, this site participates in the Amazon Services LLC Associates Program, linking to research materials (mainly books and films) at
Amazon.com
in order to partially fund its expenses through small referral commissions. No endorsement, support, or sponsorship of this site by Amazon.com is expressed or implied, nor any affiliation with Amazon beyond membership in the Affiliate program. As of 16 February 2021, this website encrypted via services provided by the free, automated, and open
Let's Encrypt
certificate authority as administered by
Panix.com
.