Photo: Metropolitan Transit Authority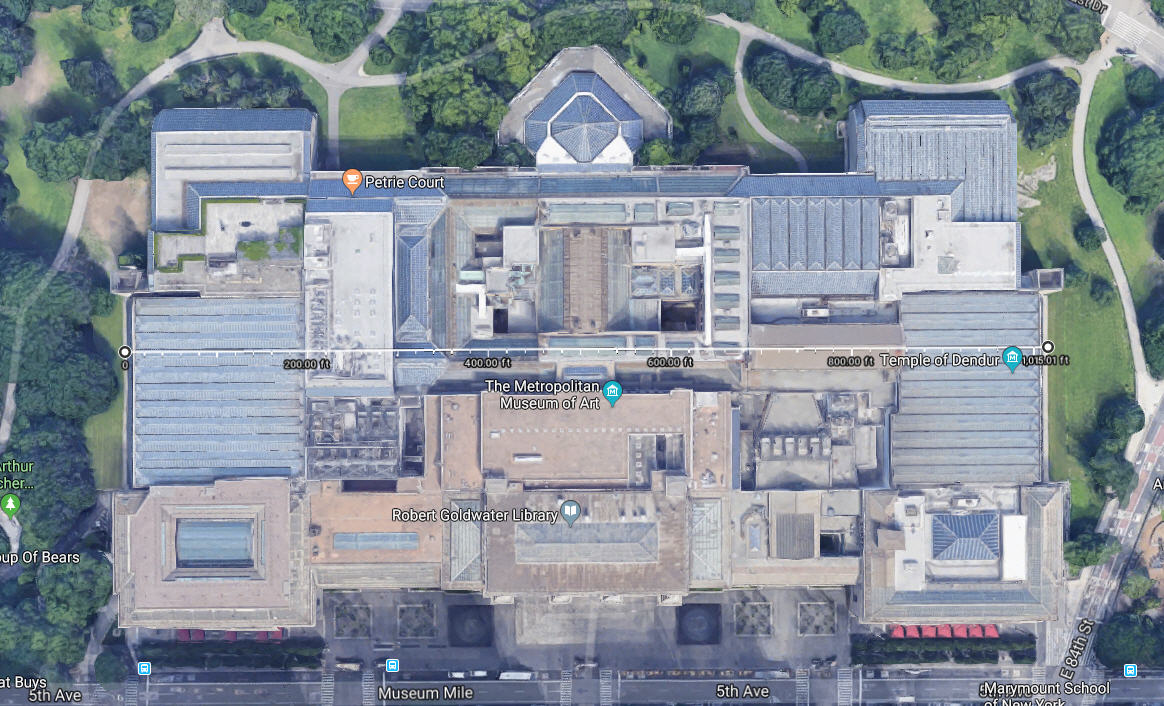 Metropolitan Museum Roof 2019 - Google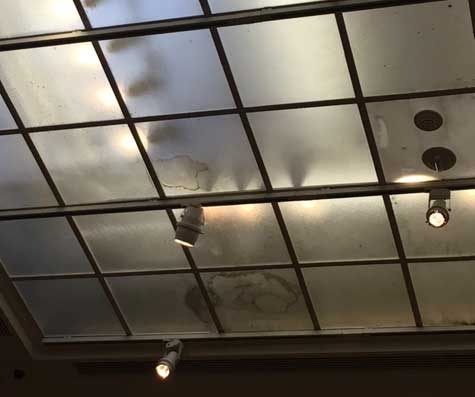 Embury's 1939 sylight[2]
New York City's
Metropolitan Museum of Art
. Aymar Embury II did a lot of work for the Museum over the years and was also a frequent lecturer there. One New Deal project at the Museum has been identified: the installation of 1000-by-450-foot glass roof[1]. 1000 feet is the width of the building itself but today only a few parts of the roof are glass; apparently they always were and Embury's glass roof is on a lower leverl. Meanwhile 80 years later, the Museum is looking to replace it at cost of $50M[2], compared to $200K for the original job.
References:
Art Museum Plans New Glass Roofs, New York Times, 12 October 1938, p.49: "As part of the program for modernizing the Metropolitan Museum of Art, a new glass roof costing about $200,000 will be installed, according to plans filed yesterday for the Department of Parks by Aymar Embury 2d, architect: Manhattan Alterations: 5th Ave. between 81st and 84th St, 1,000&times450 (Museum of Art) to 4-story museum; Department of Parks, City of New York, Aymarr Embury 2d, architect; cost: $200,000."
Fixing the Actual "Glass Ceiling" at the Metropolitan Museum: My Q&A with Keith Christiansen, artsjournal.com, 16 April 2018: Reports a $150,000,000 project to replace Embury's 1939 skylights ("deplorably soiled, spotted, stained") with 30,000 square feet of new glass and a louver system, including 10,000 feet of new ducts, pipes and cables and 50,000 square feet of masonry repairs and repointing.
Morrison H. Hecksher, The Metropolitan Museum of Art, An Architectural History, Metropolitan Museum of Art Bulletin, Summer 1995, pp.59-63: "[Museum Director Francis Henry] Taylor, seeking construction funds, approached Robert Moses, the parks commissioner responsible for the vast WPA projects under Mayor Fiorello La Guardia. Taylor was told that the days of the city's picking up the entire were over and that herafter costs would be shared. Furthermore, if the Museum wanted city help, Moses recommended employing Aymar Embury II (1880-1966), consulting architect of the parks department. Thus in 1942 the Museum's architectural firm became O'Connor and Aymar Embury..." Embury drew up a great deal of ambitious plans (including one to remove the grand entrance staircase, as was done for the Brooklyn Museum); some of these came to fruition after the War, but many did not. By November 1950 there were 95 new galleries and six period rooms (a 30% increase in exhibition space), a new restaurant and auditorium, and new administrative offices.