Direct Serial Connections (DTE to DTE)
When two computers (or other DTEs) are to be connected directly, each one must be "tricked" into thinking the other is a modem (DCE). The trickery is done entirely with the wires that connect the pins. The result is a null modem cable – a cable that presents itself to each computer as if it were coming out of a modem. There are several classes of null modem cables, each with many variations:
Minimum 3- or 4-Wire Cable

In this cable, RD and TD are cross connected and Signal Ground goes straight though (and optionally also Frame Ground). Such a cable provides no hardware flow control and no monitoring of the connection. It might present problems for some software or device drivers that require a serial port connection to be presenting CD, DSR, and/or CTS signals before allowing data transfer.

Fakeout Cable

This cable (Model A in Figure II-6) also has only three functional wires going from end to end, but the remaining signals are "faked out" by jumpering each computer's outgoing signals back into the corresponding incoming ones: DTR to CD, RTS to CTS, and so on. This gets past difficulties with software and device drivers, but in fact provides no status whatsoever about the connection, nor the possibility of hardware flow control.

True Null Modem Cable

A fully functional Null Modem cable (Model B in the figure) allows for hardware flow control and for each computer to detect whether the connection is active. In this cable, complementary circuits are crossed over end-to-end rather than jumpered within each connector: RD and TD, RTS and CTS, DTR and CD, etc, so (for example) the software on one end of the connection can "hang up the phone" by turning off the DTR signal and the software on the other end will see the CD signal go down, even though there are no phones or modems.
The figure shows the connections for DB25 connectors; use the table above to get the corresponding pins for DB9.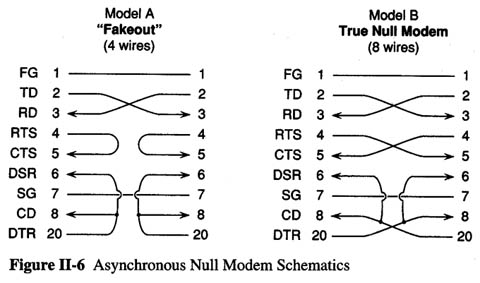 By the way, although it was common in days gone by for us to build our own cables, it is (and was even then) much easier to simply buy a "modem eliminator" or "null modem adaptor" from a computer supply store (SEARCH). This is a double ended connector that already has all of the Model B crossovers implemented inside. They come in male-male, male-female, and female-female varieties. Attach a regular modem cable to each computer and then interconnect the two modem cables with the modem eliminator.
The modem eliminator that you want has a connector of the appropriate shape (DB9 or DB25) and gender (male or female) on each end, and is asynchronous, NOT synchronous. A synchronous null modem is something else entirely, with electronics, clock pulse generators, and so forth.
For greater detail, see the Kermit books.