Notable New Deal Projects in New York City
Frank da Cruz, Bronx NY
Last update: Tue Jul 26 07:38:21 2022
This page was written in 2015 as a starting point for the Living New Deal NYC New Deal Map, which appeared in April 2017.
"What would be the 20 or 30 most significant New Deal Projects in New York City?". Obviously a matter of taste and opinion, especially when there are so many to choose from — more than 1000 at last count. And by what criteria? Most famous? Most beautiful? Most used? Most ambitious? Most expensive? Most influential? Most typical of a certain style? Employed the most people? Is the list fair to all boroughs? Any selection is bound to be arbitrary, and furthermore is complicated by deliberate measures taken by Robert Moses to obscure the New Deal connections of many of them, which I have tried to untangle (e.g. for the Bronx-Whitestone Bridge). Here are my nominations:
The first group I researched, documented, and photographed myself (click each link):
Project and Link
Borough
Attraction
Central Park
Manhattan
The Jewel of Manhattan: New Deal projects include the Zoo, Tavern on the Green, Conservatory Garden, Great Lawn, North Meadow, Harlem Meer, 23 playgrounds, various statues; see table.
Bryant Park
Manhattan
Jewel #2 of Manhattan, completely redesigned and rebuilt by the CWA in 1934.
Riverside Park
Manhattan
(and the 79th Street Boat Basin) Six miles of greenery and playgrounds along the Hudson River, a 7-year project of the PWA, CWA, and WPA.
The Triborough (RFK) Bridge
Queens, Manhattan, Bronx
One of the New Deal's largest Projects nationwide, connecting three of NYC's five boroughs, serving more than a million vehicles daily.
Orchard Beach
Bronx
The Bronx Riviera: created by the WPA.
Eleven WPA Swimming Pools
All five boroughs
100% WPA, all in one year (1936). So far I have photographed the Crotona, Astoria, Colonial (Jackie Robinson), and Highbridge pools.
Henry Hudson Parkway and Bridge
Manhattan-Bronx
A major artery of Manhattan and the Bronx
Brooklyn Navy Yard
Brooklyn
Almost completely reconstructed by the New Deal during the runup to World War II.
Williams­bridge Oval Park
Bronx
100% WPA; See history, prototypical WPA park, emblematic of hundreds of WPA neighborhood parks and playgrounds in NYC. But this one wasn't just "improved" by the WPA, it was created, top to bottom. And the recreation center building is absolutely classic WPA style.
Bronx County Court­house
Bronx
Architecture, sculptures. The provenance of this one is a little iffy, but since an official NYC government page says it was constructed with New Deal public funds, I think it's OK. Plus it is a beautiful building.
The Bronx General Post Office
Bronx
Architecture, sculptures, murals, recently privatized.
The Bronx-Whitestone Bridge
Bronx, Queens
Has been called the world's most beautiful bridge.
Randall's Island
Manhattan
An oasis in the middle of New York City. Its historic WPA NYC Municipal Stadium there was torn down in 2002, but numerous New Deal baseball fields and infrastructure (including a waste treatment plant) remain.
SUNY Maritime College
Bronx
The WPA converted Fort Schuyler into the USA's first nautical academy.
DeWitt Clinton High School Murals
Bronx
A monumental WPA mural depicting the history of the world beneath the cosmos. In the news in 2018 when part of the mural was painted over.
Hillside Homes
Bronx
One of the first subsidized middle-income housing projects in the country, financed by the PWA.
The second group I researched and documented here on this page, just below these tables, but haven't photographed yet.
Project and Link
Borough
Attraction
La Guardia Airport
Queens
100% WPA, NYC's first commercial airport. The Marine Air Terminal is the only surviving New Deal piece.
11 WPA swimming pools
All
(I still haven't photographed 7 of them)
The third group I haven't photographed or researched or documented except to get minimal verification that each is, indeed, a New Deal project:
Project
Borough
New Deal verification
Manhattan Criminal Court­house
Manhattan
Living New Deal. "The Tombs" at 100 Centre Street
Federal Office Building 90 Church Street
Manhattan
Living New Deal
Lincoln Tunnel
Manhattan-NJ
Short[1], p.546
Queens-Midtown Tunnel
Manhattan-Queens
Leighninger[2], p.86
East River (FDR) Drive
Manhattan
Leighninger[2], p.86
8th Avenue IND Subway Line
Manhattan
Leighninger[2], p.86. Also the Sixth Avenue Line, the Fulton Street Line, and the IND Queens Branch (at Living New Deal, search "New York City Subway").
Canal Street Station Post Office
Manhattan
Living New Deal. One of the few New Deal NYC post offices in Moderne style. National Register Reference number 88002358. This would be my pick to stand for all the New Deal post offices in the City. Other links: A, B, C.
First Houses
Manhattan
Living New Deal. On the Lower East Side. The USA's first low-income public housing project (see Landmarks Preservation document).
Brooklyn-Battery Tunnel
Manhattan-Brooklyn
Encyclopedia of Bridges and Tunnels, Living New Deal.
Brooklyn College
Brooklyn
Short[1], p.280
Franklin K. Lane High School
Brooklyn
Living New Deal. I think this is the most impressive surviving NYC New Deal school, even though (like almost every other big NYC school) it has now been chopped up into charter schools.
Belt Parkway
Brooklyn-Queens
Living New Deal
Flushing Meadows Corona Park
Queens
Living New Deal (created for the 1939 World's Fair).
Jacob Riis Park
Queens
Living New Deal.
Boulevard Gardens Apartments
Queens
Living New Deal. A complex of 10 six-story buildings with a total of 960 apartments for low-income families.
Staten Island Technical High School
Staten Island
Living New Deal
Staten Island Zoo
Staten Island
Living New Deal
US Marine Hospital
Staten Island
Living New Deal (now Bayley Seton campus of Richmond University Medical Center).
References:
Short, C.W., and R. Stanley Brown, Public Buildings, A Survey of Architecture of Projects Constructed by Federal and Other Governmental Bodies between the Years 1933 and 1939 with the Assistance of the Public Works Administration, United States Government Printing Office, Washington (1939).
Leighninger, Robert D. Jr., Long Range Public Investment, University of South Carolina Press (2007).
WPA Swimming Pools
April 2022: New Signage for NYC's 11 1936 WPA Pools
Eleven enormous public swimming pools with magnificent full-service bathhouses opened in July and August 1936. These were 100% WPA projects, soup to nuts, all new and original, paid for by a $10,000,000 WPA grant. With innovations such as filtered, treated, temperature-controlled recirculating water, underwater floodlights and above-deck illumination, showers, and sanitary foot baths, these pools set the standard for decades to come, and they were an extremely welcome addition to the urban landscape at a time when hardly anybody had air conditioning. Furthermore, free diving and swimming lessons were given in each pool. Together the new pools had a capacity of about 50,000 people. In the off-season, they served as skating rinks or game courts, and the bathhouses as gymnasiums. The project was headed by Aymar Embury, the chief architect of the NYC Parks Department, paid by the New Deal (the PWA at first and then other agencies). Embury also designed four of the pools personally: Astoria, Colonial, Crotona, Sunset. The Astoria pool was the site of the 1936 Olympics Trials for the US swimming and diving teams.
| Date | Borough | Original name | Location or new name |
| --- | --- | --- | --- |
| 24 Jun 1936 | Manhattan | Hamilton Fish Swimming Pool | E. Houston St and Avenue C |
| 24 Jun 1936 | Manhattan | Thomas Jefferson Swimming Pool | East 111th Street and First Avenue |
| 24 Jun 1936 | Brooklyn | Red Hook Pool | Bay Street, Henry and Clinton Streets |
| 1 Jul 1936 | Queens | Astoria Swimming Pool (see gallery) | Hoyt and Ditmars Avenues |
| 5 Jul 1936 | Richmond | Tompkinsville Swimming Pool | Lyons Pool |
| 13 Jul 1936 | Manhattan | Highbridge Swimming Pool in Highbridge Park (see gallery) | 173rd St & Amsterdam Ave |
| 19 Jul 1936 | Brooklyn | Sunset Swimming Pool in Sunset Park | 7th Ave & 41-44rd St |
| 23 Jul 1936 | Bronx | Crotona Park Swimming Pool (see gallery) | Crotona Park |
| 30 Jul 1936 | Brooklyn | McCarren Park Swimming Pool in Greenpoint | Lorimer and Bayard Streets |
| 5 Aug 1936 | Brooklyn | Betsy Head Swimming Pool in Brownsville | Dumont Ave & Boyland St |
| 7 Aug 1936 | Manhattan | Colonial Swimming Pool, Bradhurst Park, Harlem (see gallery) | Jackie Robinson Pool |
References:
La Guardia Airport and the Marine Air Terminal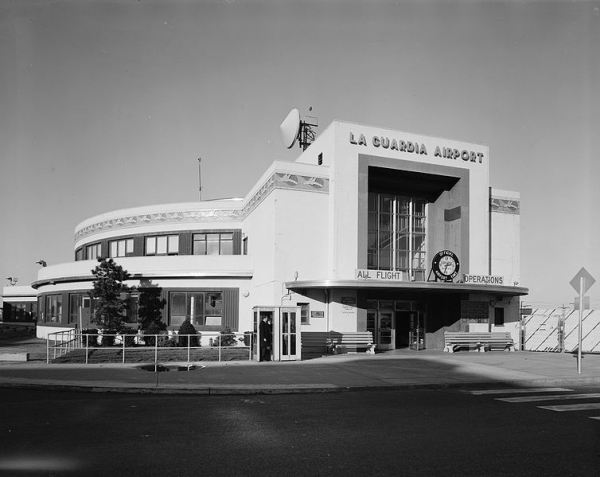 La Guardia Airport was York City's first commercial airport and when it opened on December 2, 1939, the nation's most modern commercial aviation complex. It was a 100% WPA project and one of its largest ever [1,pp.2,439-442].
From the Federal Writers' Project, WPA Guide to New York City, p.567 (written shortly before opening day):
NORTH BEACH AIRPORT. Grand Central Parkway and Ninety-fourth Street, scheduled for opening in the summer of 1939, is New York's second municipal airport -- Floyd Bennett Field in Brooklyn is the first -- and the most important land- and seaplane terminal in the East. Situated on a 432-acre tract projecting into the East River between Bowery and Flushing Bays, the field is only twenty minutes ride, by way of Grand Central Parkway and Triborough Bridge, from mid-town Manhattan.

The seaplane division is designed to accommodate regular transatlantic airplane travel and will be used by Pan American Airways, Air France Transatlantique, Imperial Airways, Royal Dutch, and Deutsche Lufthansa. Its facilities will eventually include two hangars holding twelve to fourteen planes; a marine traffic terminal connecting with the hangars by tunnel; an administration building containing waiting and baggage rooms, and offices for navigation, flight control, health, customs, and immigration; and a platform ramp on Flushing Bay for landing passengers.

The landplane field will be used as the eastern terminus for the planes of the Transcontinental and Western, the American, the United, and the Eastern air lines, replacing Newark Airport in this respect. Its facilities will comprise four concrete runways measuring 4,688, 4,168, 3,900, and 3,532 feet, unobstructed runway approaches of several hundred feet, and an administration building flanked by six hangars.

The cost of the airport is estimated at $22,000,000, of which 70 per cent will be borne by WPA. Work was begun early in 1938.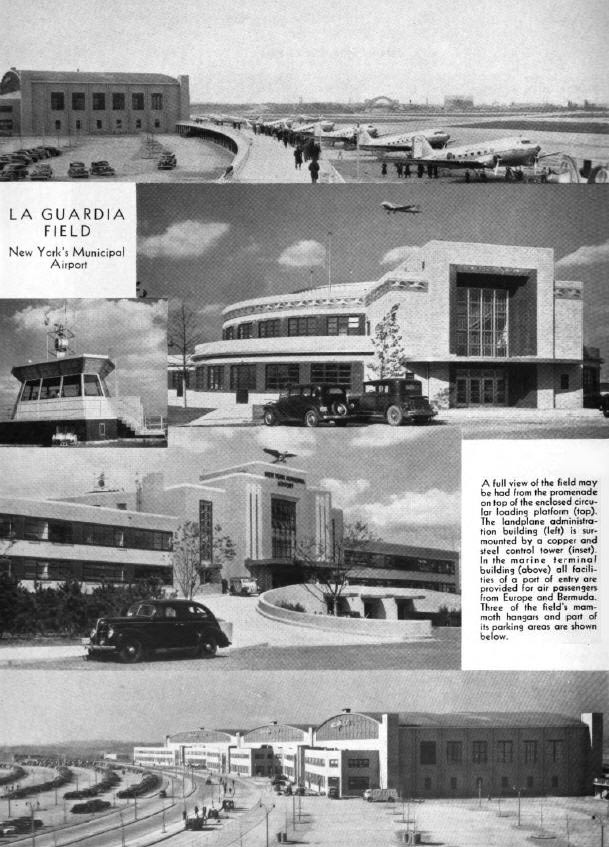 The "landplane field" is what we now call La Guardia (or LaGuardia) Airport, the seaplane division is what we now call
Marine Air Terminal
. They were a single project at the time, although now they are considered sort of separate. For example, if you take a taxi you have to say either La Guardia or Marine Air Terminal; they have different exits on the Grand Central Parkway.
Mason Williams, in City of Ambition (2013), writes:
Despite its relatively light use of capital, the WPA made a considerable contribution to the city's economic development — above all in the construction of La Guardia Airport, which connected New York not simply to the metropolitan area and to the surrounding regions but to other world cities ... Roosevelt gave his full support to the project ... eventually the cost would rise to $40 million, of which the WPA contributed $27 million ... and New York became ... one of the world's air traffic centers.
From Edward Lawson, "WPAirports",
Flying Magazine
, Vol.16, No.4, April 1940 [read the whole article
here
as long as the link lasts]:
Believe it or not ... WPA workers have built at least 160 brand new airports since 1934, extended or improved at least 500 others and set up field lighting standards and boundary lights by the thousands ... When the Depression came along, the need for larger airports was already apparent. But nothing was done about it and, as years went by and the number of scheduled airlines increased, it became pretty clear that unless the Government helped to develop ground facilities, aviation as a whole would be seriously retarded. So the WPA stepped in — where both fools and angels feared to tread — and did a job in four years that othewise might have required from 14 to 24 ... Every airport touched by WPA's miracle-working shovel leaners is publicly owned and will be available should a national emergency arise ... To build New York's tremendous new LaGuardia Airport they transported 14,000,000 cubic yards of fill across Long Island Sound by means of trucks which traveled across a temporary bridge span at the rate rate of one every nine seconds. They increased a landing surface, originally only 100 acres in area, five times by extending it into Flushing Bay. They built four asphalt runways for landplanes, a vast seaplane base for clipper ships, two administration buildings and seven hangars. Constructed under a constant fire fire of criticism, in adverse weather part of the time, with some actual sabotaging and always under the lash of necessity to get it finished in a hurry, this mammoth field already has been adjudged by the pilots [of] American Air Lines and Transcontinental and Western Air — who use it daily — as one of the safest in the United states ... [It] became the WPA's biggest and most outstanding project.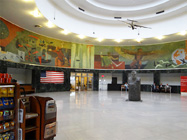 As of Spring 1939 the project employed more than 20,000 workers[1,p.31]. The Marine Air Terminal contains the largest WPA mural of all time, called
Flight
, completed in 1942. It was completely painted over by the Port Authority of NY and NJ in the 1950s during the Red Scare, but was restored in 1980 and in 1995 the building was declared a historic landmark[4]. In the XXI Century, LaGuardia Airport has been the subject of much dirision and ridicule, and on July 27, 2015, Governor Cuomo announced it would be torn down and replaced by a whole new airport. The main buildings all date from the 1980s and 90s. "The Marine Air Terminal [The building itself] is a designated New York City landmark so it seems unlikely that it will literally be torn down."[5]
Other references: