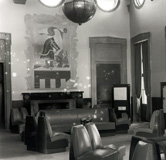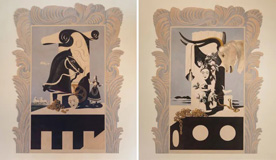 The
Pelham / Split Rock Golf House
Club Room. The painting is "modern retro" but the fireplace and stone- and metalwork are original. Originally the walls featured murals by
Allen Saalburg
, NYC WPA's Director of Murals, who also did the murals in
The Arsenal
(Parks Department headquarters in Central Park). By 2019 (two years after I photographed this site) the Saalburg murals had been restored and returned to their original spots.[3]
References:
Owen, David, The Muny Life: Hidden Art Treasures of New York City Golf, March 2, 2013. Photos from the NYC Parks Department archive.
Owen, David, "Playing Out of the Snow", The New Yorker, March 28, 2005, pp.26-32.
Allison Meier, Two Surrealist WPA Murals Return to a Golf Course in the Bronx, hyperallergic.com, 19 March 2019 (accessed 12 July 2021). Thanks to Evan Kalish for noticing this article.