Construction laborers, Riverside Park, May 16, 1934.
Photo:
New York City Department of Parks and Recreation
:
"Group of black laborers is shown laying foundation stones in the shallow river bed that was to become part of the Riverside Park expansion. One of the largest public improvements to ever take place in New York City, this massive project decked over the New York Central Railroad, doubled the park's acreage, and added the scenic Henry Hudson Parkway along its perimeter. Financed by the Federal Works Progress Administration (WPA), the workforce numbered in the many thousands. Notice the harmonica player at center who tries to maintain the work crew's spirits in the face of their daunting task." (Parks Department text) In the background, far left, Grant's Tomb. The tall building to its right is Riverside Church. Then apartment buildings along Riverside Drive from 120th Street to 116th Street. The workers are laying down stones taken from the railroad bed to stabilize the river bank. This photo was taken very close to the doomed Columbia University Yacht Club at 113th Street. The steeply terraced park was about to be totally reconstructed into two relatively flat area separated by a high stone retaining wall, with the NYCRR tracks beneath the high part.
Prior to the New Deal, the New York Central Railroad ran along the Hudson River on the west side of Manhattan, not only cutting residents off from the river, but also spewing coal smoke and soot into the residential areas. A project was launched in 1929 to bury the railroad tracks under parkland but it never got off the ground due to lack of funding, and by 1934 what we know as Riverside Park today was a "wasteland ..." stretching from 72nd Street to 181st Street ... "a vast low-lying mass of dirt of and mud ... unpainted, rusting, jagged wire fences along the tracks barred the city from its waterfront; in the whole six miles, there were exactly three bridges on which the tracks could be crossed, and they led only to private boating clubs ... [a] stench [hung] over Riverside Drive endlessly after each passage of a train carrying south to the slaughterhouses ... carload after carload of cattle and pigs..."[1, pp. 65-67]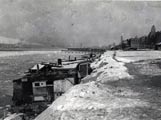 Riverside Park Hooverville, 1933. Click to enlarge.
Plus "fifty-two shacks comprising the veterans' camp between 72nd and 79th Street ... [and] eighty-three other shacks along Riverside Drive on the Hudson River ... [plus] a reinforced coal hopper at the foot of 96th Street... [plus] old docks [plus] eleven shacks built around the piling tinder [at] the dock at 96th Street ... these wharf dwellers are literally clinging to the underpinnings of the rotting dock structure"[2].
"The fifty-two shacks comprising the veterans' camp between 72nd Street and 79th Street, between Riverside Drive and the Hudson River [inset photo] will be torn down on May the first. Provision has been made for the Department of Public Welfare to transfer these men to a farm at Greycourt. There are eighty-three other shacks along Riverside Drive on the Hudson River, housing over one hundred men, which will be torn down at the same time that the Hudson River Yacht Club and the Columbia Yacht Club will be demolished."[7]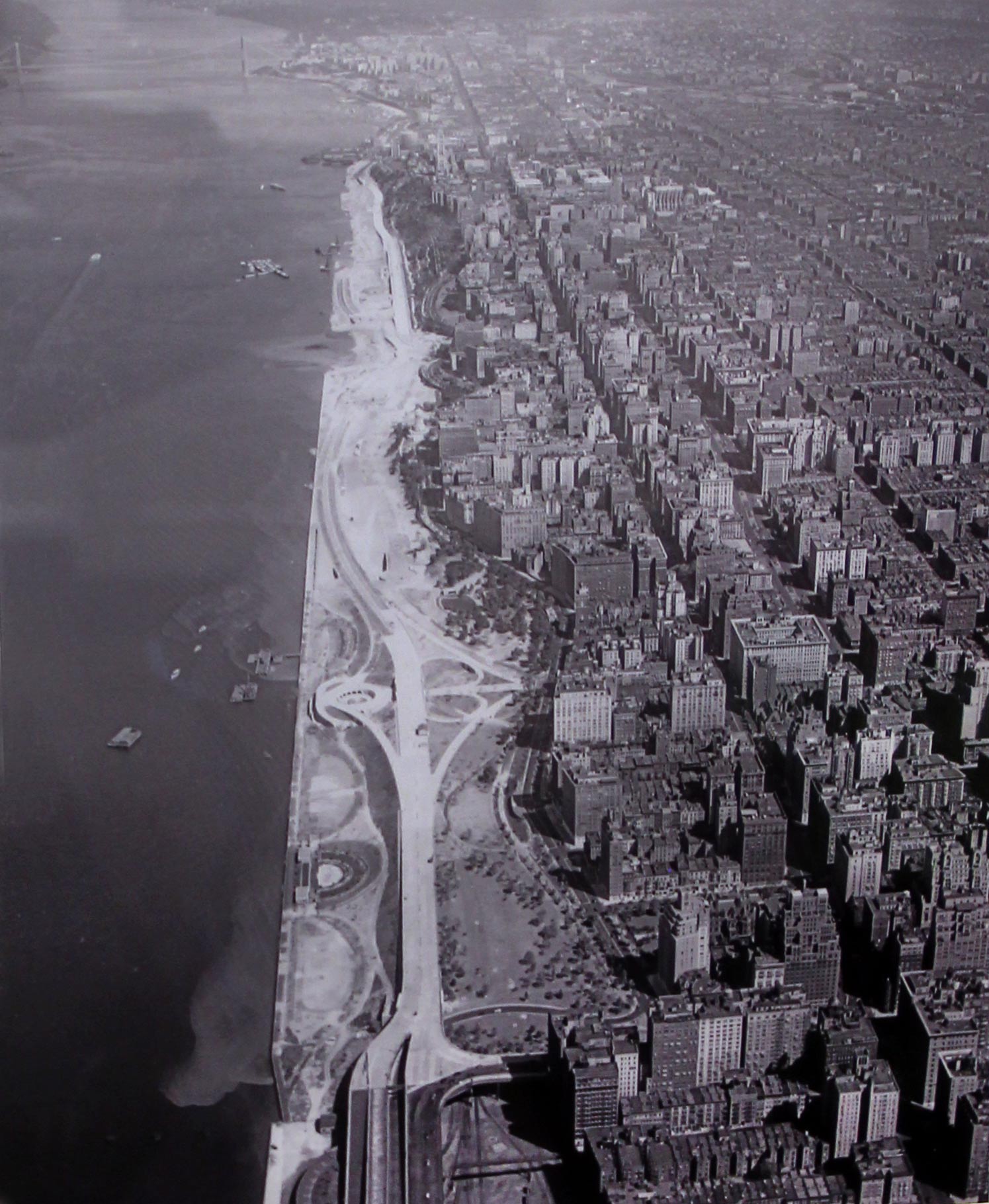 West Side Improvement 1937. Photo: NYC Parks Department Archive. Click to enlarge.
In 1934 Robert Moses launched the West Side Improvement Project to create from this a mess a 5½-mile-long park, an express highway, and two boat basins. He obtained funding from "many sources ... Governor Lehman approved a loan of grade-crossing-elimination money to the New York Central. Federal, state, and City grade-crossing moneys, City street and park funds raised by assessment, railroad funds, money obtained through the sale of bonds of a municipal authority, Federal and state highway money and relief funds were also included."[3] Moses is (as always) deliberately vague about the funding, and doesn't even mention the labor. But this was a massive work project and Moses commanded an army of as many as 80,000 relief workers during this period: if they didn't build it, who did?
Robert Caro, as usual, to the rescue [1]: Moses calculated that he had to find $109 million for the project, and Caro recounts how he did it; it's the kind of feat only Moses could pull off and Caro's pages are worth a read if you want to make your head spin. But to summarize (and perhaps oversimplify very slightly 14 pages of twists and turns), Moses received (in round numbers) $42M for the project from the Federal government ($30M from the PWA and CWA, $12M from federal interstate highway funds), $23M from the City and State, and $3M from private sources (this adds up to $68M, considerably short of his original estimate for reasons explained in Caro: cutbacks, sleight of hand, etc).
Today Riverside and Fort Washington Parks are an essential fixture of Manhattan's West Side. They include not only parkland, but a mall overlooking the Hudson River; baseball, football, and soccer fields, playgrounds, sprinklers, wading pools, running tracks, volleyball courts, tennis courts, bicycle paths, skate parks, and boat basins. It's really one big long park from 72nd Street to 181st Street, but there is an invisible boundary at 155th Street with Riverside Park to the south and Fort Washington Park to the north.
References: