Photo: 18 November 2018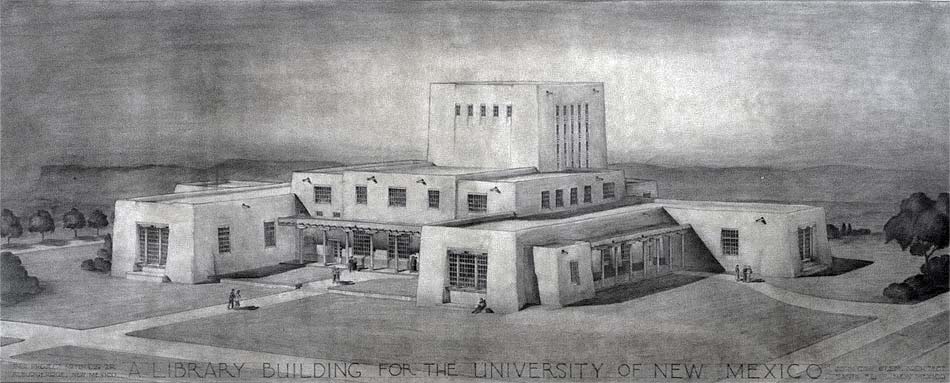 Original 1938 Meem drawing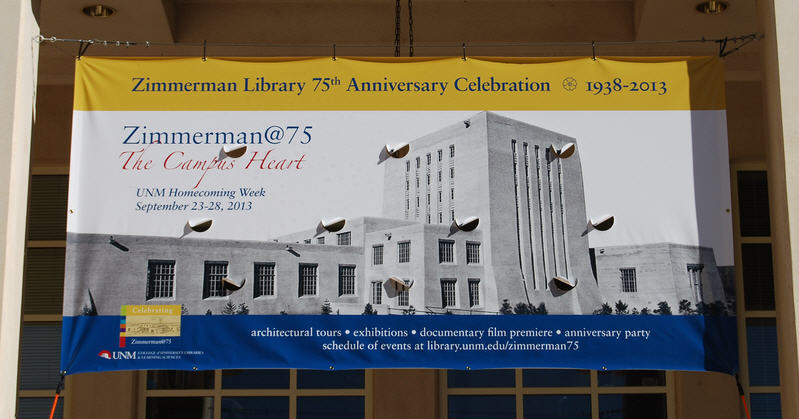 75th Anniversary banner
University of New Mexico
Zimmerman Library
. "An example of John Gaw Meem's design of Santa Fe Style architecture came into being with federal funding ($341,424) [about $6.5 million 2018 dollars] as a PWA project in 1938. Furniture and tin work can be found throught the building created by New Deal craft persons and as a result Meem once commented that this was probably the most expensive building created on campus when once includes the amount of time spent on all the fine handicrafts. The total estimated cost was actually $460,080 according to Van Dorn Hooker. Meem shared that this building which includes 61,578 square feet was probably his finest work."[1]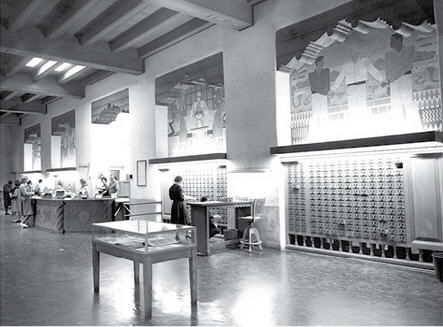 Circulation desk/card catalog 1938[2]
"The interior of the building is emphasized by the work of local craftspeople including punched tin light fixtures, elaborate wood carving and handmade furniture, all designed by Meem and rendered in WPA funded workshops in the area. The construction of Zimmerman Library and the other PWA projects on the UNM campus provided much needed employment for local laborers and artisans through New Deal funding. ... [Ground was broken] December 2, 1936 and the new library was opened on April 1, 1938. As before, students, faculty, and Works Progress Administration workers carried books into the new building. The process took two weeks and filled four of the nine stack levels. The building was formally dedicated in June 1939 during UNM's fiftieth anniversary celebration and named after president Zimmeran in 1961. The 1930's brought additions to the library staff, including cataloger, reference, loan, periodicals, reserves and archivist librarians. By 1939 staff also included five WPA workers, thirty National Youth Administration students, and nine student assistants."[2]
"Constructed between 1936 and 1938 with PWA and WPA Public Works Administration funds, the library is organized around the Great Hall, with three reading rooms projecting from the north end of the hall and two on the south end. ... Northwest and southwest of the entrance are park- like groves of evergreen trees planted by the WPA. ... Many of the interior fixtures and furnishings of the library were also designed by the architect, including hand-carved tables, chairs, and desks produced by local Hispanic craftsmen. Many of the Hispanic-style punched-tin lanterns and chandeliers, aspen-pole latilla ceilings, wrought-iron gates, banisters, and door handles, carved-wood steam-heat register guards were produced by local craftsman, who were paid by the WPA. Native American artisans, also employed by the WPA, carved vigas and corbel brackets throughout the library in the Spanish-Pueblo Revival style."[3]
References
Kathryn A. Flynn, Public Art and Architecture in New Mexico 1933-1943: A guide to the New Deal Legacy, Sunstone Press (2012), p.34.
Zimmerman Library 75th Anniversary, booklet picked up at the library.
Zimmerman Library, National Register of Historic Places, NRIS Reference Number 16000549, 22 August 2016.