Tingley Beach
, Albuquerque. "In 1933 the Roosevelt Administration began the Civil Works Administration, which would provide a 90 percent match for public works projects. The CWA in 1933 and 1934 supported more than 30 projects in Albuquerque, including construction of Roosevelt Park and Tingley Beach, and provided hundreds of jobs."[1]
"Tingley's beach project was also a stretch. Only Tingley, it seemed, could see a recreation area where there was only a dump. Tingley arranged for the conservancy district to divert water for a small lake that became Conservancy Beach (later Tingley Beach). In 1933-34 the CWA supported more than 30 projects in Albuquerque."[2]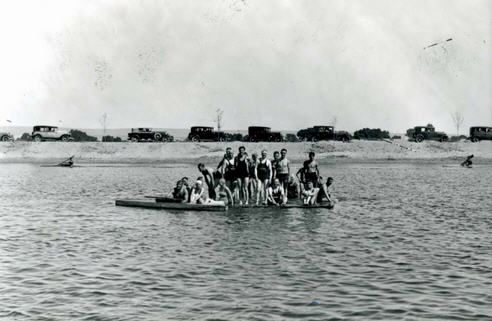 Tingley Beach 1936[3]
"Tingley Beach may be one of the best examples of the political genius embodied in Depression-era public works projects. It not only employed people but gave them an inexpensive place to have fun as a community. Children, teenagers, and employed and unemployed adults shared the beach. All ages share the raft in the 1934 photo. Kids could be kids
and
part of society. ... Tingley Beach was thoroughly renovated starting in 2004 and was reopened to the public in November 2005. The renovated beach does not include swimming facilities but does include pedal boat rentals, a catch-and-release fishing lake, a model boat pond, a children's pond, and Tingley Station with restaurants, arcade games, bike rentals, and restrooms."[3]
Sources seem to differ over the federal New Deal role in Tingley beach. Most likely the original construction occurred in the early 1930s, just before the New Deal, using state and/city work relief funds (Tingley as a governor was to New Mexico as Roosevelt was to New York[4]), and then later federal agencies such as CWA continued the work.
References
New Deal Economy, Albuquerque Tricentennial site, accessed 30 November 2018.
U.S. Statehood Government, 1912-1945, Albuquerque Tricentennial cite, accessed 30 November 2018.
Anthony Anella and Mark C. Childs, Imagine a City that Remembers: The Albuquerque Rephotography Project, University of New Mexico Press (2018).
Suzanne Stamatov, There Was a Time and it Was Tingley's, New Mexico History.org (Office of the State Historian), accessed 23 November 2018.
Charles D. Biebel, Making the most of it: public works in Albuquerque during the Great Depression, 1929-1942, Albuquerque Museum (1986).