Photo: 11 November 2018
Photo: Unknown
The
Indian Hospital
(or Indian Health Service or Indian Health Center), 801 Vassar Drive NE, Albuquerque, New Mexico. Unfortunately it is not possible to get a photo of the whole building today due to a 1982 addition[3]; a pre-addition photo is shown at right. The building was constructed by the Office (later, Bureau) of Indian Affairs in 1934 and run by that agency until 1946, when federal Indian health care was transferred to the US Public Health Service[9].
"Originally a tuberculosis sanatorium, the hospital was the first Bureau of Indian Affairs buildings to deviate from a standard design. Hans Stamm, Chief of the Architectural Group at the BIA in Washington, D.C., was directed to consider the Southwest's unique heritage and environment when designing this structure. Unfortunately, a parking structure was insensitively added during the 1980's, and now obscures the original entrance elevation. The lobby has stenciled motifs on the ceiling and a cornice frieze. The surface is clad with textured terra-cotta resembling stone."[1]
"At the same time that President Franklin Delano Roosevelt initiated 'New Deal' emergency programs designed to boost the national economy and help bring the country out of the Great Depression, he appointed John Collier Commissioner of Indian Affairs (1933-1935). Collier took full advantage of New Deal funds to promote Indian arts and crafts, increase employment, improve infrastructure on reservations, and construct schools. He was an idealist who struggled to reform federal Indian policy during his twelve year term. ... Collier used New Deal funds to attempt to remedy the appalling federal neglect and underfunding of Indian health and education programs exposed in 1928 by [a] private study of Indian affairs known as the Miriam Report. In 1933, the $19 million from Public Works Administration appropriations allotted to the Indian Service almost equaled the entire Indian Bureau budget of $22 million."[2]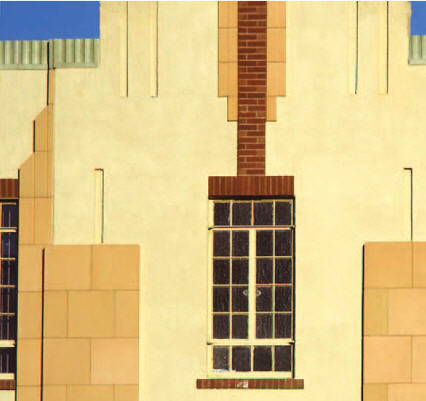 Exterior; Photo: [1]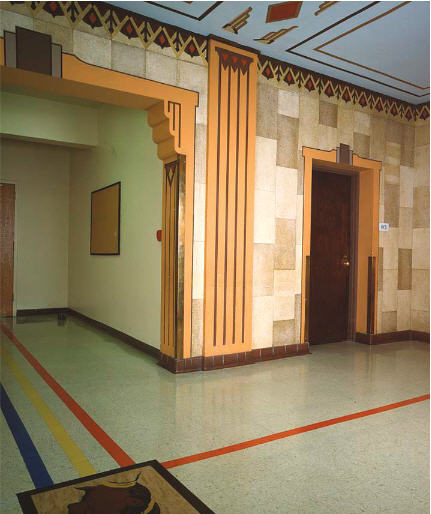 Interior; Photo: [1]
"The Indian Hospital is one of very few buildings in Albuqueque that's truly Art Deco, an architectural style that still lends elements to the urban landscape and to design all levels, from streamlined appliances to furniture to the sets of 'Miami Vice'. The original building — four stories high at the center — is perfectly symmetrical, stepping down at each floor, showing off trim and strong vertical lines with each wedding cake layer. The exterior is pale yellow, trimmed with green and terra cotta coping and red brick lintels. Inside, the building features tilework on the walls and artwork that nos toward Native American clientele who have come to depend on the hospital. Interior of the building's original entrance, now a central corridor, features Deco detailing around doors in brown, yellow and orange and Indian motifs of clouds and diamonds painted on the ceiling. The stylized face of a stoic Indian brave decorates the center of the floor.
The original building was designed by anonymous Bureau of Indian Affairs architects
in Washington, D.C.
, according to a 1983 article in Mass Magazine [the chief architect was Hans Stamm, see
Reference 1
] ... it initially opened as a tuberculosis sanitarium before switching to full hospital services for Native Americans. ... [Ray] Rogers [hospital director] said more than 30,000 Native Americans are treated annually at the hospital and five Pueblo clinics also overseen by the federal Public Health Service. Over the years, members of 222 different tribes have been treated. ... The sturdy old hospital still has many good years of service to come, Rodgers said. 'The place is built like a bomb shelter,' he said. 'Uncle Sam is getting his bucks' worth.'"[3]
Referring to the Indian Hospital: "The Albuquerque Service Unit is located on a 7.5-acre site at the northwest corner of Lomas Blvd. and Vassar Dr. in Albuquerque's Near Northeast Heights. The Campus contains six historic buildings constructed in 1934 by the Bureau of Indian Affairs as a sanatorium for the treatment of Pueblo Indian patients who had contracted tuberculosis. Five of the six buildings, Building 21 - Main Hospital, Building 22 - Nurse's Quarters, Building 23 - Physician's Quarters, Building 24 - Physician's Quarters, and Building 25 - Maintenance Building are significant and still in use."[4]
The references cited show that a great deal of Federal money was flowing into Native American health care during the New Deal and suggest (but don't prove) that this money played a role in the creation of the hospital. Although the Bureau of Indian Affairs (Office of Indian Affairs until 1947) is not normally considered a New Deal agency, it is clear that its activities and funding skyrocketed during the FDR administration, and that many of its projects of that era would not have been undertaken otherwise.
References
Art Deco Society of New Mexico, Albuquerque Tricentennial Pueblo Deco Tour (2005), accessed 25 November 2018.
Kathryn A. Flynn, Public Art and Architecture in New Mexico 1933-1943: A guide to the New Deal Legacy, Sunstone Press (2012), pp.214-215.
Steve Brewer, "60-Year-Old Indian Hospital Builds Pueblo Elements into Art Deco", Albuquerque Journal, Trends section, Sunday, March 22, 1992, Page 1, section C.
Albuquerque Service Unit Exterior Envelope Evaluation for Indian Health Service, Rock Gap Engineering, 8 Aug 2018.
"A New Deal for the American Indian", Literary Digest, 7 April 1938, p.21.
Eric Rhodes, "Indian New Deal", National Archives, 30 November 2015, accessed 26 November 2018: "The Johnson-O'Malley Act of 1934, which Collier helped to steer through Congress, offered states Federal dollars to support their Native American education, health care, and agricultural assistance programs."
Native Americans, Digital History, University of Houston website, accessed 26 November 2018: "When Roosevelt became president in 1933, he appointed a leading reformer, John Collier, as commissioner of Indian affairs. At Collier's request, Congress created the Indian Emergency Conservation Program (IECP), a CCC-type project for the reservations which employed more than 85,000 Indians. Collier also made certain that the PWA, WPA, CCC, and NYA hired Native Americans. Collier had long been an opponent of the 50-year-old government allotment program which partitioned and distributed tribal lands. In 1934, he persuaded Congress to pass the Indian Reorganization Act. The act terminated the allotment program of the Dawes Severalty Act of 1887; provided funds for tribes to purchase new land; offered government recognition of tribal constitutions; and repealed prohibitions on Native American languages and customs. That same year, federal grants were provided to local school districts, hospitals, and social welfare agencies to assist Native Americans."
The Albuquerque Tricentennial website, accessed 26 November 2018: "U.S. Indian Service built the Indian Sanitorium in 1934 for $500,000 and provided free treatment to Indian TB patients."
Health Care to Native Americans - Transfer to Department of Health, Education, and Welfare (1945-1969), US National Library of Medicine website, accessed 26 November 2018. This page refers the "Indian Sanitorium, Albuquerque, 1951", which implies that it was not converted to a general-purpose hospital until after the New Deal.
Albuquerque Indian Health Center, Indian Health Service website, accessed 26 November 2018.