Photo: Municipal Art Society of New York[1]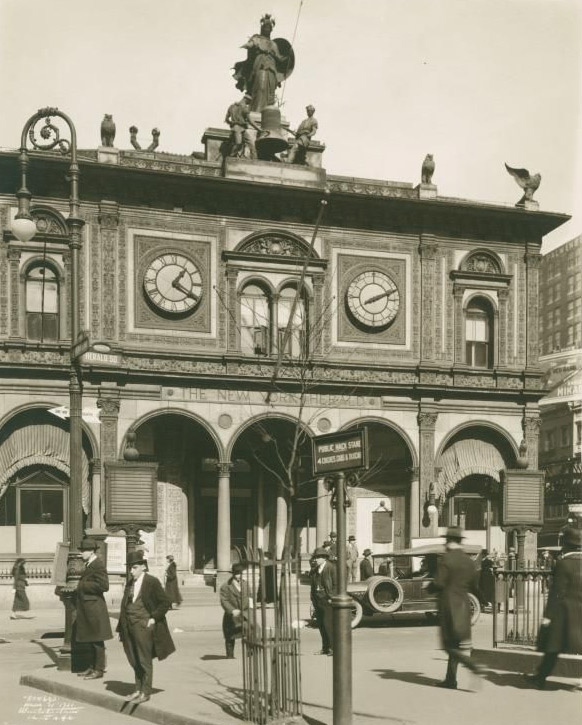 Original site[4]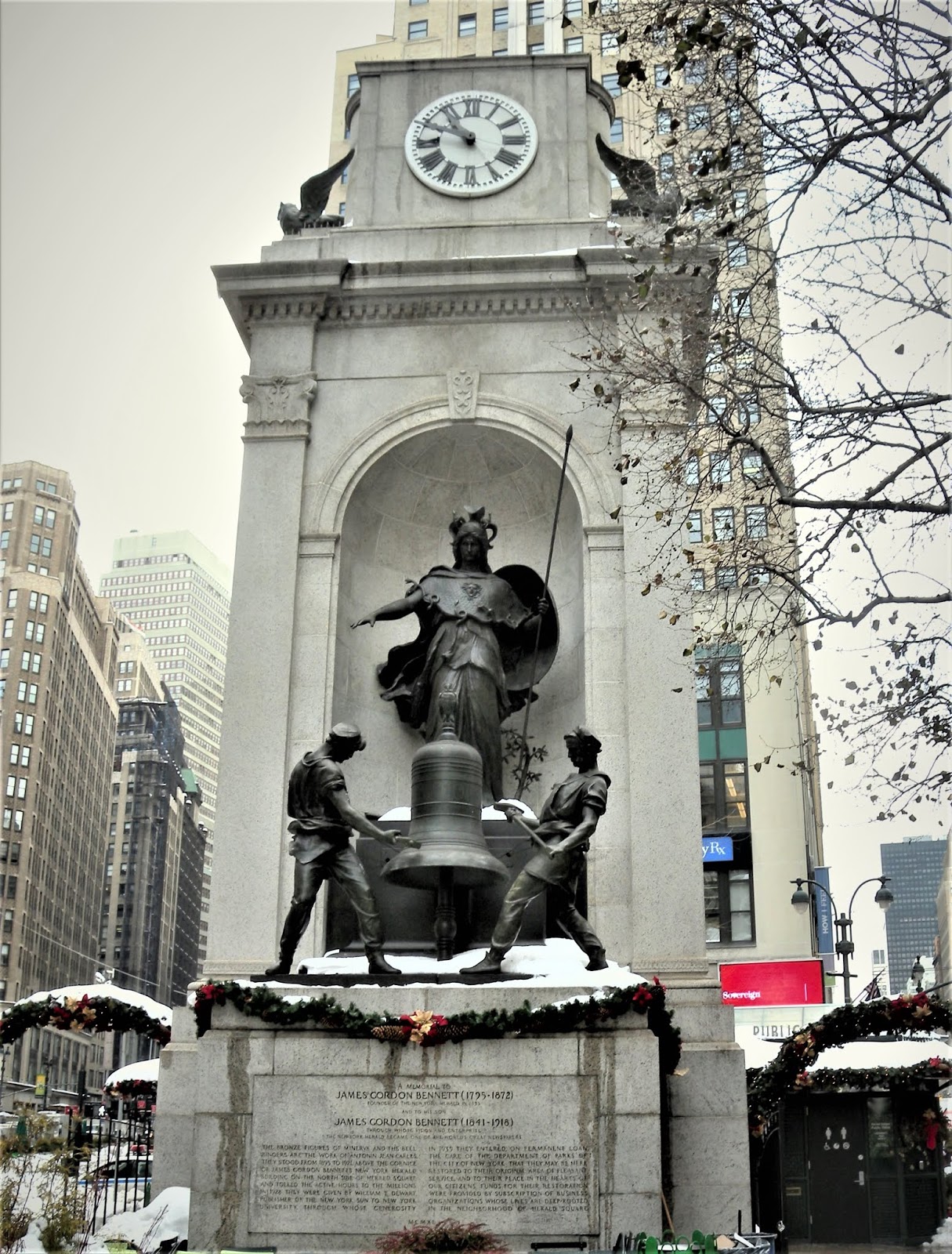 Full monument[5]
The statue
Minerva and the Bellringers
, 1892, by French sculptor Jean Antonin Carles at Herald Square in Manhattan, in a 40-foot monument designed by Aymar Embury II in 1940[2].
References:
Monument of the Month: The Bellringers, MASNYC, The Municipal Art Society of New York, News 15 August 2017.
'Stuff and Guff' Returning after 19 Years, New York Times, 3 July 1940, p.19. "The proposed new forty-foot granite monument of modified Italian Renaissance design, with its double-faced clock and the two bronze owls, will serve as a background and base for the bronze group. The monument was designed by Aymar Embury 2d, consulting architect of the Park Department." This was indeed a Parks Department project, and also in this article, when Robert Moses thanks the "business men in the Herald Square District who have made the installations possible" by raising money he neglects that thank the federal goverment New Deal agencies that are paying Embury.
Alison Fortier, A History Lover's Guide to New York City, Arcadia Publishing (2016), p.170: "In 1894, the New York Herald's offices and publishing plant moved from Printers Row to what would become known as Herald Square. The new Herald Building, designed by McKim, Mead & White, was a magnificent version of an Italian palace. The Herald Building, like the newspaper, is long gone. The imposing Bennett clock, named for the New York Herald publisher James Bennett Jr., once stood on top of the building. Since 1940, the clock has been incorporated into a forty-foot tall monument to the Bennetts and the New York Herald, designed by Aymar Embury II. The monument features a ten-foot-tall figure of Minerva, the Roman goddess of wisdom, and two seven-foot-tall blacksmiths who strike a large bell on the hour."
Photo found on Pinterest.
Photo by Nick Carr, scoutingny.com
NYC Parks Department press release, 19 November 1940.