Image: Google Maps, August 14, 2015.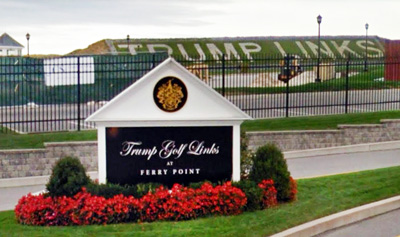 Trump Links 2017 (Google Maps)
Ferry Point Park in the South Bronx, Google satellite view. The original Ferry Point park is outlined in two colors. When the park opened in 1941 it was one big, spectacular park, but since 2015 the larger western section is a "world class" Trump golf course, outlined in blue[4,5,6]. Construction began in the 2000s during the Bloomberg administration.
The land (approximately 100 acres) was acquired by the city in 1937 to serve as the Bronx end of the Whitestone Bridge[1], itself a New Deal project. The 1941 Parks Department press release[2] announcing the opening of the park credits the WPA some role in the construction (there is probably much more to the story but this will serve for now to verify the New Deal connection):
Construction work in connection with the development of Ferry Point Park, located on the 171 acre East River Bronx Shore promontory which supports the north anchorage of the Whitestone Bridge has been completed ... since the opening of the bridge. A permanent feature of this new park is an overlook 35' above the water. A combination comfort station and storage building at the rear of the overlook is bounded on three sides with a brick-paved portico. The south side facing the river is joined to the overlook by a brick surfaced terrace. Although the main interest of the park is passive recreation, two baseball diamonds have been1 provided, but will not be available for use this summer because the areas have been newly seeded ... The former meadow areas were brought to grade by hydraulic fill supplied under contract. The remainder of the development was constructed by the Work Projects Administration from plans prepared under the supervision and approval of the Department of Parks.
References: