C.W Short / R.S Brown book of PWA Projects 1933-1939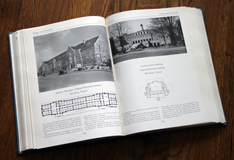 Public Buildings
,
A Survey of Architecture of Projects Constructed by Federal and Other Governmental Bodies between the Years 1933 and 1939 with the Assistance of the Public Works Administration
by C.W. Short and R. Stanley Brown (US Government Printing Office, 1939), 697 pages. 8¾"×11¾"×2", weight approx. 5 pounds. Printed on heavy high-quality gloss paper. Photographic survey of about 650 PWA projects all over the country through 1939: dams, powerhouses, roads, bridges, post offices, schools, colleges, and on and on. It's not a definitive listing of all PWA projects, let alone all New Deal Projects, but it's a valuable resource in untangling the mystery surrounding the countless and long-forgotten accomplishments of the New Deal.
[Amazon] [Bookfinder] (as of October 2020, Amazon seems to have no genuine copies of this book left)
If you want to acquire this book, be certain that it is the original book (perhaps rebound, as by a library), and not a low-resolution scan printed on cheap paper. As of the date below, the Amazon link is to a source of genuine books.
Another book on the same topic is America Builds: The Record of the PWA, Public Works Administration, Division of Information, United States Government Printing Office, Washington DC (1939), 316pp. The link is to an online copy that is apparently not digitized. A text dump from its page images can be found here.